Great pubs and cafes near Leeds' arcades
By Paul & Ian, founders of Treasure Hunt Leeds. Updated May 2022.
In our treasure hunts, we always try to recommend places for our players to relax and take a break. The half-way point of Treasure Hunt Leeds is by three of Leeds' magnificent arcades: County Arcade, Queens Arcade and Thornton's Arcade.
We took it upon ourselves to thoroughly explore the pubs and cafes in the area. We snuck down hidden alleyways and strolled down amazing arcades, all in the name of research 🥂
Whether you're after a coffee, a glass of wine or a bite to eat, there are some great places to eat near Leeds' arcades. Read on for our recommendations!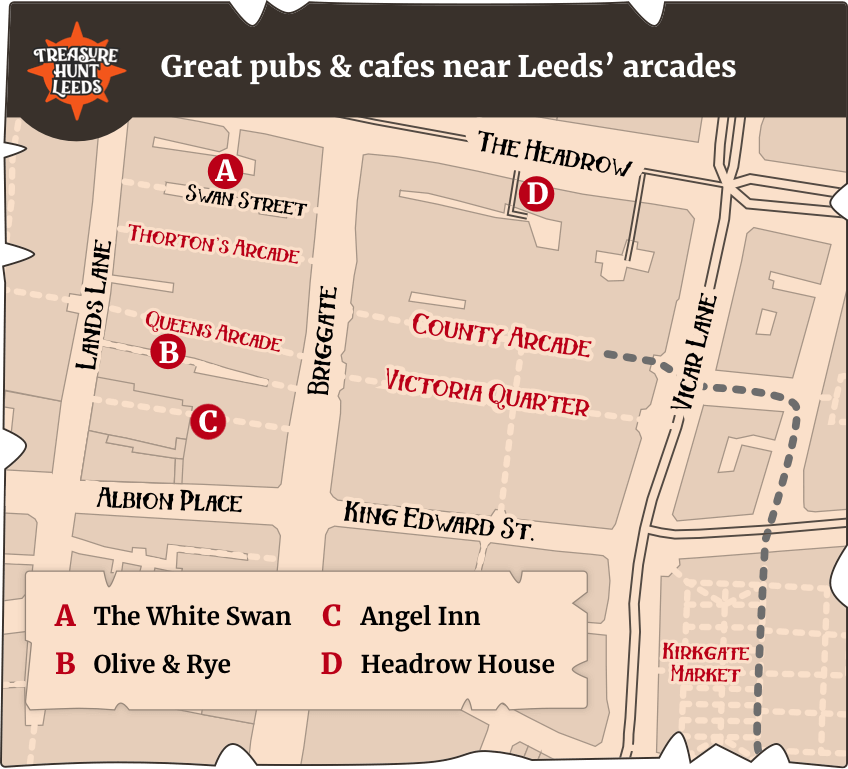 ---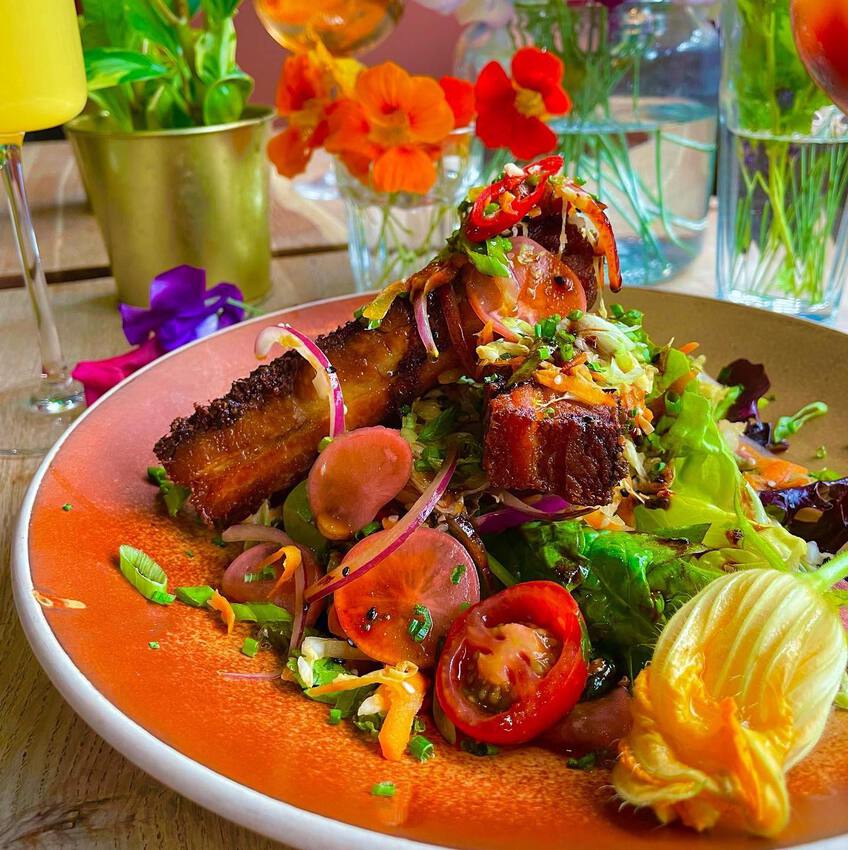 Photo from instagram.com/olive_rye_official
Olive & Rye
A gorgeous independent cafe tucked away in the beautiful Queens Arcade. Specialising in local ingredients, it's a great option for brunch or lunch. There's a varied menu with options for veggies and vegans. People particularly rave about the hot smoked salmon, belly pork and mushrooms on sourdough.
They've got great coffee and they're licensed too, so if you fancy a cheeky half-way cocktail, you're in luck!
---
Photo from instagram.com/simpatico_pizza
Simpatico Pizza
Part coffee shop, part pizza joint, part bar, Simpatico is definitely worth a mention.
Also tucked away inside Queens Arcade, it has a fun atmosphere and reminds us of the bustling cafes you can find in Italy.
Pizza is served by the slice so you can try a variety of delicious different toppings. Special mention to the goats cheese and spinach which is very popular.
Although it's mainly pizza, they also have delicious cannoli for those with a sweet tooth.
If you're really going for it, check out for the bottomless brunch. Start with an Italian anti pasto platter and move onto unlimited pizza slices. Wash it down with bottomless prosecco, aperol spritz, G&T and peroni too. Check the website for times.
---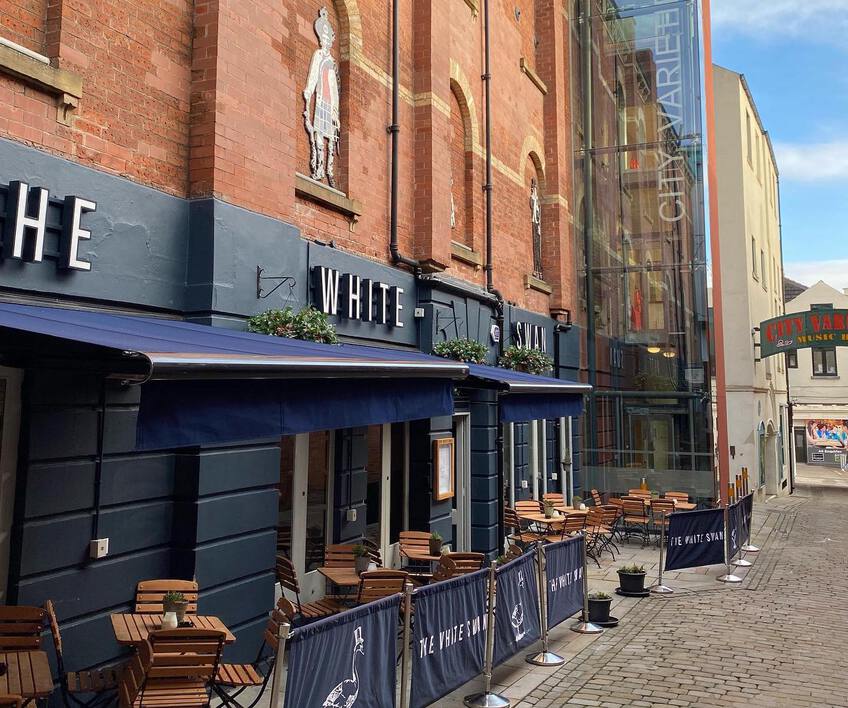 Photo from facebook.com/whiteswanleeds
The White Swan
A cosy pub with great decor and a lovely atmosphere, the White Swan is tucked down Swan Street off Briggate.
You'll find it right next to the famous City Varieties Music Hall so you can check that out at the same time.
One of a handful of pubs by the excellent Leeds Brewery, the White Swan has a fantastic selection of local ales as well as wines, ciders and gins.
The food is homemade and uses local produce where possible. People wax lyrical about the Sunday roasts as well as the fish and chips.
This is a great option for a cozy pint, with friendly staff and a relaxed atmosphere.
---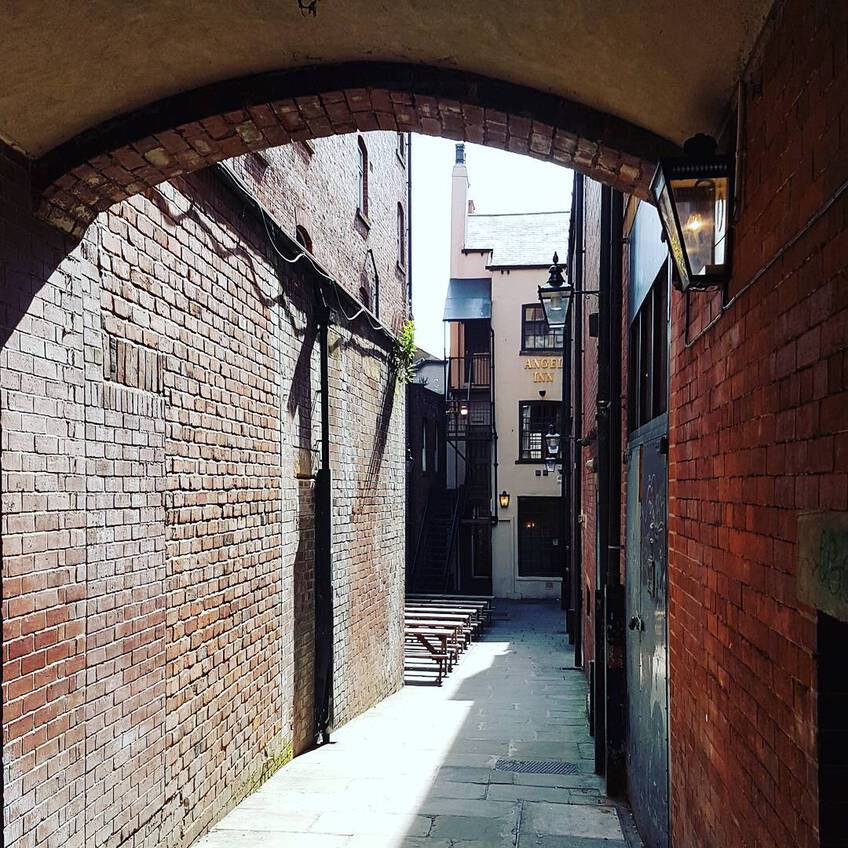 Photo from instagram.com/angelinnleeds
Angel Inn
Fancy a hidden gem? Look no further!
The Angel Inn pub has been going since the 17th century, and before that a pub was on this site for another few hundred years.
Your first challenge is to find the pub as it's tucked down the tiny alleyway called Angel Inn Yard.
Once you're in, you'll be treated to a very traditional pub vibe. Solid wood bar, exposed beams, you get it.
Bear in mind it's a Samuel Smith's pub. As with all of their pubs, bear in mind:
The beer is very cheap
Phones are banned!
So if you fancy somewhere with a bit more character, where you can chat and have a drink or two without screens getting in the way, the Angel Inn might just be for you.
---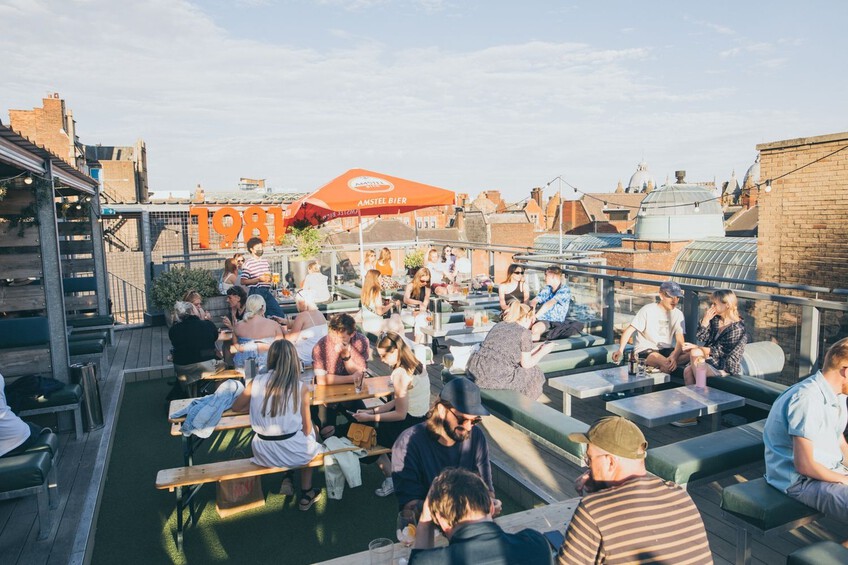 Photo from instagram.com/headrowhouse
Headrow House
This recommendation's a bit of a wildcard, but if the weather's good, it's the place to be.
Situated just north of the arcades on the Headrow (hence the name), the reason to visit this place is the stunning roof terrace.
Enjoy the sun and a stunning view of the city with a cold G&T, cocktail or a cheeky pitcher.
It can get quite busy, and they put on events from time to time. Best to call ahead and check the roof terrace is open to avoid disappointment.
---
Help us improve this page
Is there anything you'd find helpful on this page? Spotted a mistake? Let us know!
Thank you for letting us know!