Treasure Hunt Leeds will take you on a fab route around the city, spotting clues and following treasure maps, all at your own pace.
A different way to see Leeds
A treasure hunt is more like a game than a traditional tour. You have to follow treasure maps, solve cryptic clues and keep your eyes peeled to find the answers.
You'll have some banter with our friendly pirate Captain Bess. She'll put you in your place if you get too many answers wrong!
Take your time, go at your own pace
You can start when you like, there's no fixed start time. You can even finish the next day if you get stuck in a nice pub!
Fancy browsing the indie shops in the Corn Exchange? No rush! Take it at your own pace. Enjoy the cafes and pubs you'll spot along the way.
Play on your own terms. It's just you and your team, like a private tour.
Great way to explore new city."

We decided to visit Leeds for the first time and embarked on a treasure hunt. We've learned a lot about the city and really enjoyed it. With a sidetrack visit to Armouries museum (not in the hunt) and dinner, we've spent all day completing it.
Start playing in 60 seconds
It's all on your phones, there's nothing to print or collect.
Book online and you'll get a link to start your game straight away.
You can rearrange or cancel
We're flexible. If you have to change your plans for Leeds, just reschedule or cancel for free.
You'll see the best of Leeds 🧭
See the classic areas, but the real fun is finding the clues and noticing things in the city that you'd otherwise walk right past.
A fantastic experience!"

Got to see hidden gems in a place I thought I knew well. Really easy to use too but do make sure your phone is charged fully as the curators advise!
Victoria Quarter - A beautiful and premium shopping arcade decorated in rich marble and gilded mosaics.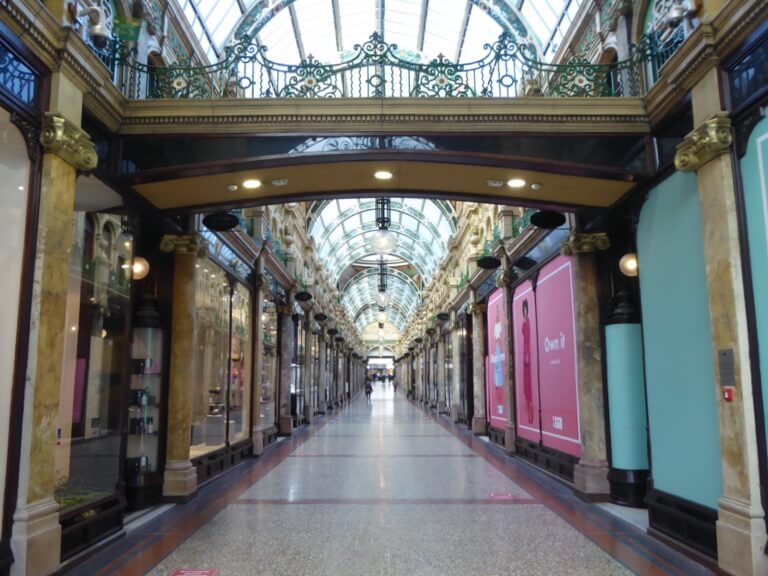 Leeds Art Gallery - Home to a fab collection of 20th-century British paintings and sculpture, it also presents a great exhibitions programme.
Corn Exchange - This iconic Victorian building now houses a raft of Yorkshire's best independent businesses.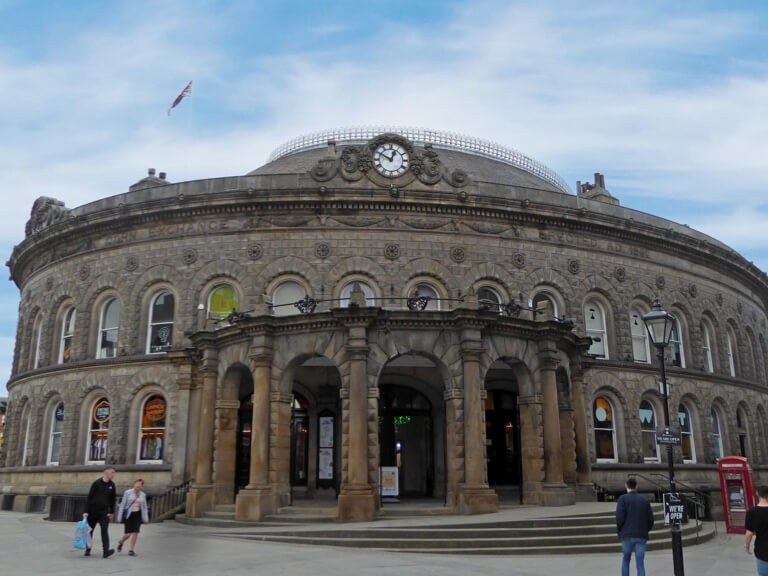 Kirkgate Indoor Market - This Edwardian building is a shoppers paradise. Fresh food, drink, flowers, hardware, jewellery, it's got it all!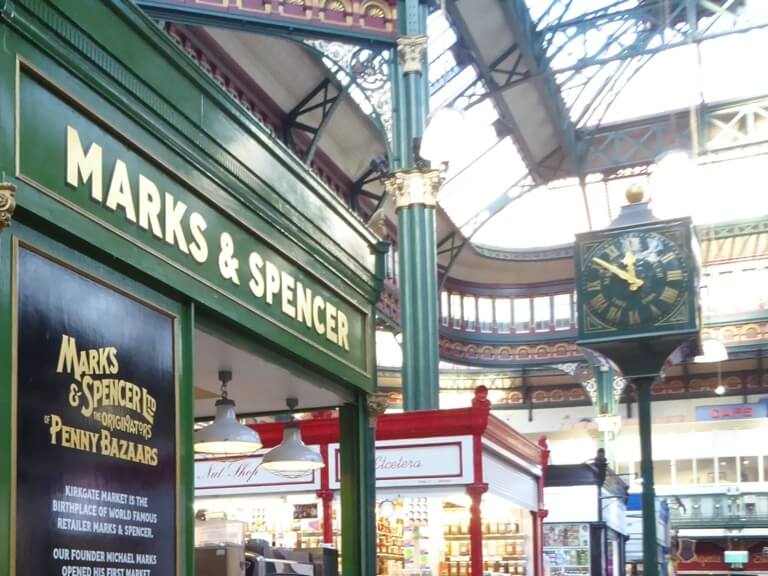 Leeds Town Hall - This grand 19th-century municipal hall is currently closed for a major refurbishment and will offer a first-class venue when it re-opens in 2024.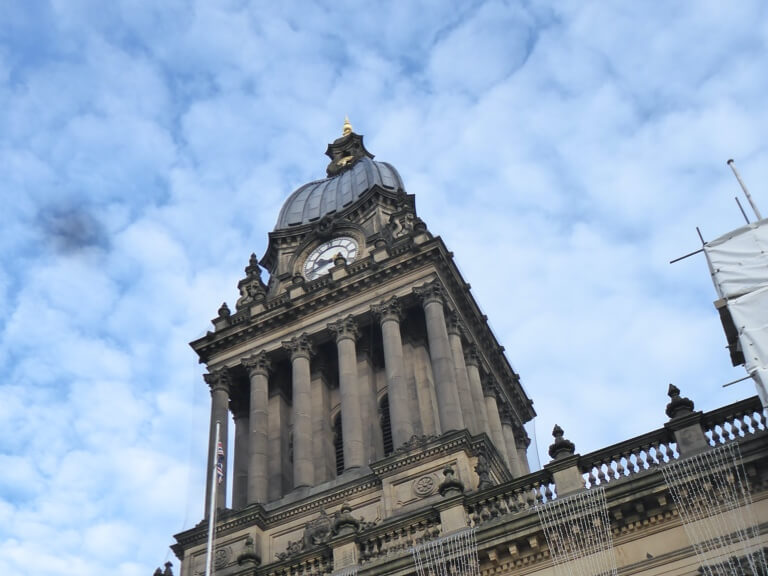 Thornton's Arcade - A stunning example of Victorian architecture, this arcade boasts beautiful wrought iron arches, a gorgeous glass roof and the hilarious Ivanhoe Clock!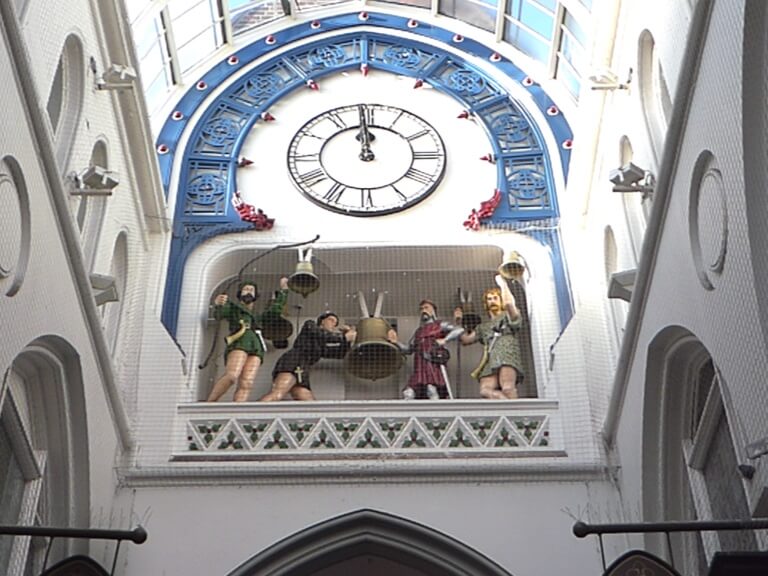 Tiled Hall Cafe - A hidden gem tucked away inside Leeds Art Gallery, this cafe is a great spot for a rest with it's stunning ornate tiles and grand columns.
Holy Trinity Church - This splendid parish church is located in the heart of Leeds, tucked in next to Trinity Leeds vibrant shopping centre.
St Paul's House - This former warehouse and cloth cutting works has magnificent architecture and really stands out amongst the other Georgian buildings in the square.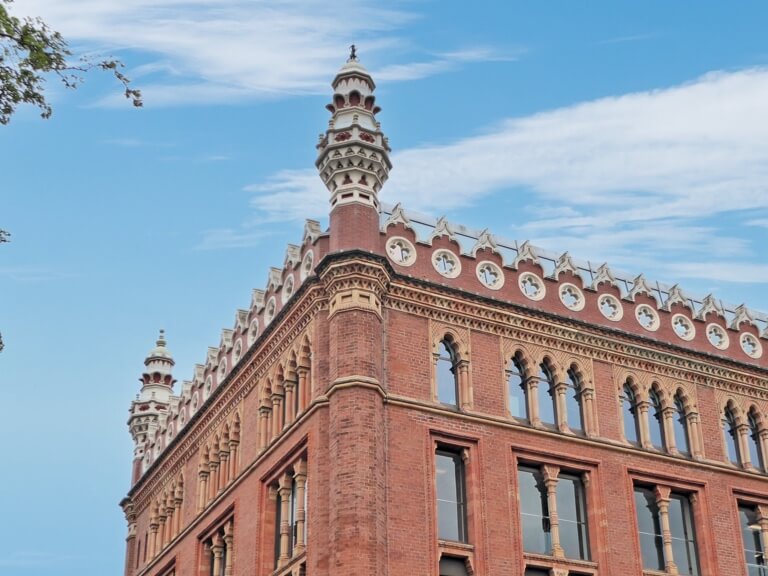 By the end, you'll be familiar with Leeds and you'll have a few ideas of where to go back to.
What if it rains?
If it's raining on and off, you can dive into a pub or cafe along the way. There's no time limit.
If it's properly raining you can reschedule for another day, or even split start one day and finish the next.
If it's really heavy rain and you don't fancy being washed into the canal, just cancel for free, even if you've started the game.
Will it be too difficult?
Don't worry! The treasure hunt has some tricky clues, but if you get stuck you can ask for a hint.
You won't get completely stuck, wandering aimless around the arcades...
Will I have fun if I'm from Leeds?
Yes! You already know the city, but we bet you'll notice things you've walked past a hundred times before.
We've worked hard to find the less-obvious stuff - beyond the typical blue plaques - and some interesting stories and anecdotes. You're going to have a great time!
Is it suitable for kids?
The game is designed for adults and curious kids aged 8 and up.

Younger ones are welcome though you may have to help by interpreting the clues and Captain Bess' pirate speak.
The whole route is pushchair friendly, avoiding steps or showing step-free alternative routes.
We're a family of four with a 13 year old and a 11 year old. Mum was map reader, dad reminded kids about clues, and kids were hunting for clues."
Fun for kids and adults with nice drinks stops factored in."

Loved this treasure hunt, clues were perfectly pitched. It took just the right amount of time also, had a fab day and it was good exercise.
Will it be too physical?
It's 2 miles walking and there are plenty of spots to rest, like pubs and cafes as well as the Kirkgate market and the Corn Exchange.